GeForce GTX 660 2GB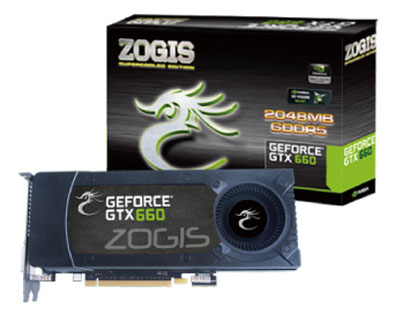 Core / Memory Specifications

DVI-D + DVI-I + HDMI + DisplayPort
| | |
| --- | --- |
| | The product picture may differ from the actual product. Use only for your reference. All products photos and specifications are subjetc to change without prior notice. |
NVIDIA GPU BOOST

Up until now, GPUs have operated at a fixed clock speed when playing 3D games, even if they have the potential to run faster. GPU Boost intelligently monitors graphics work load and increases the clock speed whenever possible. The result is that the GPU always performs at its peak and you get the highest framerate possible.

NVIDIA ADAPTIVE VERTICAL SYNC

framerates are high. Adaptive VSync is a smarter way to render frames. At high framerates, VSync is enabled to eliminate tearing, at low frame rates, its disabled to minimize stuttering. It gets rid of distractions so you can get on with gaming.

NVIDIA FXAA and TXAA Technology

Antialiasing helps to smooth out jagged lines in games. Existing techniques like MSAA are effective at removing jagged lines in still images but struggle with crawling and shimmering artifacts when the player is in motion. TXAA is a new antialiasing mode that combines MSAA, temporal filtering, and post processing for the highest edge quality and minimal shimmering during gameplay.

NVIDIA PhysX™ Technology

Full support for NVIDIA PhysX technology, enabling a totally new class of physical gaming interaction for a more dynamic and realistic experience with GeForce.

NVIDIA Surround™ Technology

Nothing is as breathtaking as playing your favorite games across three monitors. At 5760 x 1080, the expanded field of view fully engages human peripheral vision and provides for the most immersive experience in racing and flight simulators. Add in a fourth display to keep tabs on chat, email or web while you are gaming.

NVIDIA SLI®- Ready

Used by the most demanding gamers worldwide, SLI lets you link up to three GeForce GTX 660Tis together for astounding performance. And with NVIDIA's track record for fast and frequent software updates, you'll not only get the best performance in existing games, but future games too.

NVIDIA 3D VISION READY

NVIDIA 3D Vision brings a fully immersive, stereoscopic 3D experience to the PC. A combination of hightech wireless glasses and advanced software, 3D Vision transforms hundreds of PC games into full stereoscopic 3D. Get up to 2x monitor and keyboard brightness with NVIDIA 3D LightBoost technology4. In addition, you can enjoy 3D movies and 3D digital photographs from 3DVisionLive.com in eye popping, crystal-clear quality.

NVIDIA CUDA™ TECHNOLOGY

CUDA technology unlocks the power of the GPU's processor cores to accelerate the most demanding tasks such as video transcoding, physics simulation, ray tracing, and more, delivering incredible performance improvements over traditional CPUs.

MICROSOFT DIRECTX 11 SUPPORT

DirectX 11 GPU with Shader Model 5.0 support designed for ultra high performance in the new API key graphics feature, GPU accelerated tessellation.
The specification may change without notice. The actual products sold are different from areas. Please check the detailed specification with your local dealers.

DVI-D + DVI-I + HDMI + DisplayPort

Yes (requires 3D Vision glasses and 3D Vision-Ready displays)

Minimum of 450 W power supply (minimum recommended power supply with +12 Volt current rating of 24 Amps)

• GeForce GTX 660 graphics card

* Support for HDMI includes GPU-accelerated Blu-ray 3D support (Blu-ray 3D playback requires the purchase of a compatible software player from CyberLink, ArcSoft, Corel, or Sonic), x.v.Color, HDMI Deep Color, and 7.1 digital surround sound. Upgrade your GPU to full 3D capability with NVIDIA 3DTV Play software, enabling 3D gaming, picture viewing, and 3D web video streaming. See

www.nvidia.com/3dtv

for more details.




* NVIDIA® 3D Vision and Surround require 3D Vision glasses and 3D Vision-ready displays. See

www.nvidia.com/get3d

for more information.




* Minimum system power requirement based on a PC configured with an Intel Core i7 3.2GHz processor.

• PCI Express compliant motherboard with one dual-width x16 graphics slot
• Two 6-pin PCI Express supplementary power connectors
• Minimun 450 W or greater system power supply (with a minimum 12 V current rating of 24 A)
• 300 MB of available hard disk espace
• 2 GB system memory (4 GB or higher recommended)
• Microsoft Windows 7, Windows Vista or Windows XP Operating System (32 or 64 bit)
• CD-ROM/DVD-ROM drive or Internet connection

Back to GeForce 600 Series