News
ZOGIS'S Channel Partner GRUPO IMPOTEK Won an award from NVIDIA
Publication date: Thu, 19 Sep 2013
Lima, Peru, May 2 , 2013. – NVIDIA, a multinational company specializing in the development of graphics processing units and integrated circuit technologies for workstations, computers and mobile devices, granted an award to Importek. It is a channel partner of ZOGIS which is selling NVIDIA cards currently.
As a leading PC graphics card provider, ZOGIS is recognized as an Authorized Board Partner of NVDIA. Based on its outstanding quality and good after-sale service, ZOGIS becomes top brand in South American.
Importek Group is a company that has grown consistantly in Peru. For that reason, its manager Nick Hou received the award from Gustavo Jorge, the Latin America Channel Sales Manager at NVIDIA. Gustavo Jorge will be responsible for consolidating regional growth of NVIDIA GeForce segment.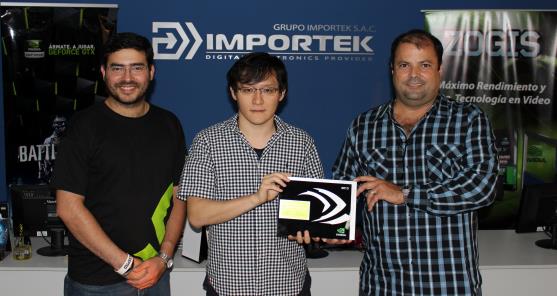 Photo: Gustavo Jorge (right hand side) and Augusto Zapata (left hand side) of NVIDIA with Nick Hou of Importek.